How Early Do I Need to Book A Calligrapher for My Wedding?
How early do I need to book a calligrapher for my wedding invitations? Short answer: as early as possible!
I know, if you're mesmerized watching Instagram videos of calligraphy it seems like a calligrapher can bust out hundreds of envelopes in a few hours, but trust me - the majority of those videos are sped up - a LOT. Hand addressing is tedious and time consuming, perfectionistic work. If you want your wedding envelopes professionally hand addressed by an experienced calligrapher, your best bet is to inquire early and book a few months before your mailing date. Many calligraphers book their addressing calendars three to six months in advance (I've had mine booked even farther out at times), so to avoid hefty rush fees, contacting your favorite calligrapher should be on the front end of your planning list. If you wait until your invitations are already printed and ready to be addressed, you might have a hard time finding a seasoned calligrapher to do the job, or pay a substantial extra fee as a last minute booking.
may have their calendar booked 3-6 months in advance or more…
If you have a shorter engagement period, all is not lost - there are plenty of calligraphers who are happy to take on last minute jobs if there's a cancelation or opening in their schedule, though you still might have to fork over a rush fee (those fees tend to run anywhere from 25%-100%)!
Let's talk about the time line (this is "ideal" timing, but I know some engagements are shorter, so adjust as needed to your situation). I like to work backward from the wedding date, so reverse order goes something like this:
Wedding Day! Dates below indicate prior to wedding date
RSVP by date: 2-4 weeks prior (check with your caterer and venue, because some will need your final count earlier; for destination weddings, 4-8 weeks prior)
Invitation Mailing date: 6-10 weeks prior (send invitations 6-10 weeks before the wedding date - you don't want to send too early and lose the hype; for destination weddings, 12-16 weeks prior is advised)
Book calligrapher: 4-6 months prior (for destination weddings, 5-8 months)
Order invitations: 4-6 months prior (for destination weddings, 5-8 months)
Save the date mailing date: 4-11 months prior
Order Save the dates: 5-12 months prior
is an essential part of planning to make sure your vendors can take care of your needs
It's a good idea to book your day-of calligraphy needs at the same time as your invitation addressing - why? Because if you want a cohesive look and love your calligrapher, you'll want to make sure you're on their calendar for both the invitations AND the day of stuff. If you order the invitation calligraphy and then realize you also want place cards, signage, seating charts, etc a month before your big day, they might not have room on their calendar anymore!
I always make my clients a priority, if they ordered invitations from me and put off booking the day-of materials until last minute - I get it, and I will always do everything I can to accommodate and make magic happen! Just know, it really helps out your stationer and calligrapher if you give them a head's up for what you'll need for the wedding day (even if you aren't 100% sure what you'll need, you can book one or two things in advance), and we're usually much more able to make add-ons to your order when you're already in the calendar!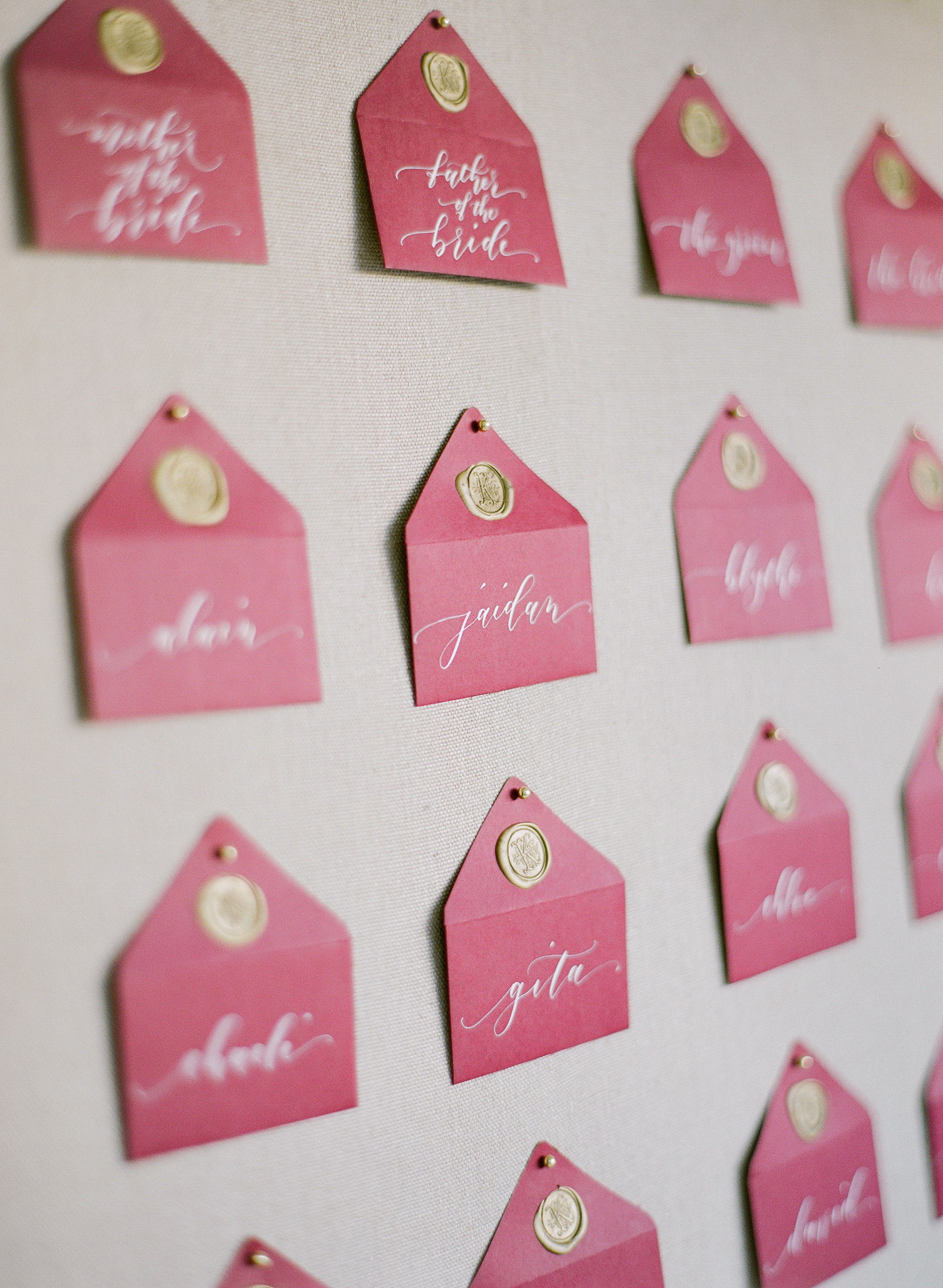 items shouldn't be neglected on your time line
There it is - if you feel overwhelmed with having so much to do and not enough time, working with a great wedding planner will ease the process - plus, they can usually help you find the right vendors for the details, including calligraphers! If you have questions about the planning process or calligraphy for your wedding, feel free to shoot me an email - I'm always happy to help!
x
-Angi